For me, this autumn is going to be all about layering, dark-colours and mini skirts (and of course tights because, you know, practicalities), and I'm looking for inspiration from one of TV's most famous fashion-lovers: Ms Rachel Green.
Below are a few of my favourite looks.
Now this one is pretty simple, as it's basically just a plain black outfit. But the genius is in the details. This would be too much with opaque tights, but the translucency of them is perfect to provide a contrast to the skirt. Plus the buckled shoes provide an almost school uniform-like element – a quintessential part of a number of Rachel's outfits, especially in the early seasons, and something I am definitely hoping to bring into my wardrobe this autumn. She's also a perfect role model when it comes to how to add these elements to an adult's wardrobe without edging into 'creepy' territory.
Again with the monochrome and the mini skirt – but she sure knows how to layer. This is probably my favourite example of Rachel Green layering, as she demonstrates with ease how you can wear that cami-dress you bought for summer all year round.
I love this dress so much, from the mesh, to the slip, to the delicate embroidery contrasting with the dark background. Unfortunately, unlike Rachel, I cannot wear this sort of thing to work. I do, however, think it would be great for a party.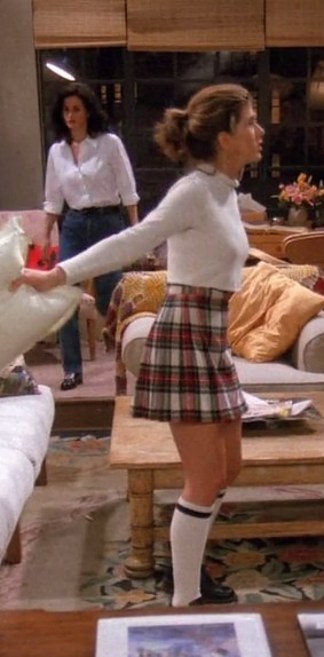 This outfit is a classic. Note the pleated tartan skirt, once again very schoolgirl-esque without looking childlike, or just plain weird. The jumper is also perfect for autumn. However, I would probably swap the long socks for something which provides a little more leg-coverage with the oncoming cold weather.
And finally… I am not a waitress, so this will not make it into my autumn wardrobe, but I have to commend Ms Green for using even her aprons to make a fashion statement. Teaching us all that we should never let workwear be boring.